ART TACTILE
Ustensiles tactiles
tactile roll, 1990
tactile mandala, 1993
Dessins tactiles
The reverse side of touch, 1978
Instructions for touching :
First, have a careful look at the drawing.
Select a place from which to begin and start touching.
Gently place fingers on the starting point, close your eyes and set off on a journey from memory.
The whole way keep repeating in your mind: "I will never see this again."
SCULPTURES DE GESTES
Three angry gestures, 1979
Destructive gesture, 1990
POÊMES TACTILES
At the end of the world, 1989
Interprétation du poème de Benjamin Péret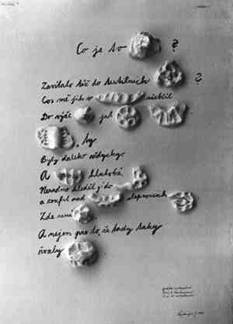 What is charity ? 1989
Interprétation du poème de Eva Svankmajerova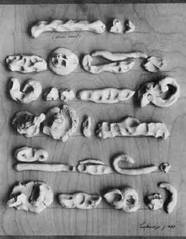 Tactile poem, 1988